Paradise Island
4.0.8
Island Builder – Build the Island Resort of Your Dreams
{video}}
If you love spending your time on a sunny beach and dream of having your own island then you will find this island builder extremely suitable to your taste. Paradise Island is a cool game which enables you to build and develop an island of your own and entertain tourists from all over the world. It lets you be a businessman who has been put in charge of a small island. Your goal is to transform this tiny island into a thriving resort which is the dream destination for all tourists. Its addictive gameplay and amazing graphics enhance the playing experience while the simple controls make it easier for anyone to play it without encountering any issues. This island builder requires access to your private information and thus can compromise your privacy.
Paradise Island combines all the best elements of popular building games. It offers a large variety of buildings for you to construct in your island. These buildings range from cabins and huts for providing accommodation to the tourists to restaurants and casinos for keeping your guests entertained. You can find these buildings in the store section of this island builder. All of these buildings can help you in earning profit which would be needed for making further investments. You have the option of improving these buildings too which would enable you to enhance your earnings. However, do keep in mind that these buildings require repair from time to time. These repairs will ensure that your customers remain happy with your services.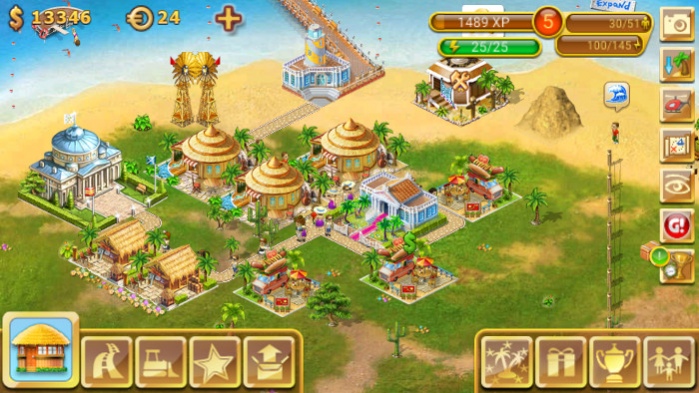 This island builder challenges your ability to run a business. You have to make sure that you continue developing the island to keep on enhancing your island's reputation and rating. This involves expanding it to accommodate more buildings. You will have to buy new pieces of both land and water in order to expand your property. Once you have acquired the extra land, you need to decorate it to make sure that the tourists love being there. You can find the different decorations on offer in the store section which can be accessed by clicking the button located at the bottom-left corner of the screen. As you continue expanding your resort, new objectives will appear. You need to complete these objectives to earn greater rewards.
Paradise Island is best enjoyed when you play it with your friends. You can start inviting your friends and competing against them by connecting this island builder with your Facebook account. There are various seasonal events that are offered to you from time to time in this game. They can help you in gaining some rare items. Do remember that such events only last for a limited time period and you have to complete their objectives within the given time frame. The tourists coming to your island will need your help frequently. You can earn experience, extra cash, and useful items by helping out your customers. If you want to earn some extra cash, you can play the match-3 mini-game on offer.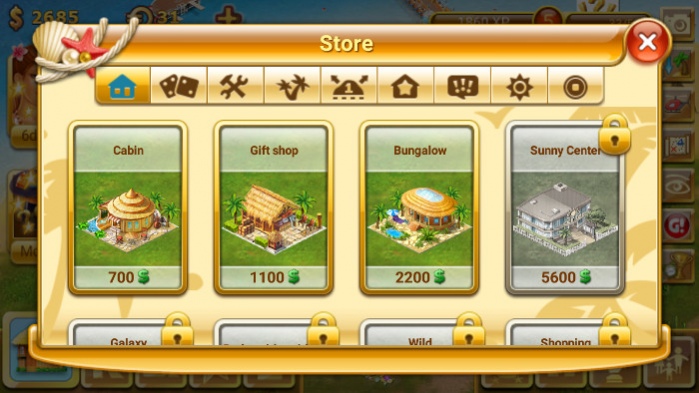 Features
Lots of different buildings available
Option available for improving the buildings
Repair the buildings when they are in need of repairs
Buy new pieces of land to expand your property
Decorate the island with a number of different decorations
Complete objectives to earn rewards
Help the tourists to earn special items and experience
Set up facilities to encourage tourism business
Connect the game with Facebook and play with your friends
Mini-game to earn some extra cash
Conclusion
Paradise Island is a gaming app which is marketed towards people who have an interesting in playing building games. It offers them the opportunity to become the owners of an island and develop it into a paradise on earth. Although it is a nice island builder game which can keep you occupied for hours on end, it is unsuitable for privacy-conscious people because of its intrusive nature.
---
Add a review
Tell us your experience with
Paradise Island
4.0.8
RELATED PROGRAMS
Our Recommendations
---
---
---
---